Proxy Panel with One Key Access
As an industry leader, DSL Rentals takes a new approach to the proxy market. Now you can purchase one single key which opens up all our locations and features!
This key can be used to access PANEL: panel.dslrentals.com

Panel provides you with all necessary tools and information for work automation: API commands, automatic IP change triggered by timer, and all relevant information available in JSON format. You may purchase more keys after you log into the panel, this way all the purchased keys will be associated, visible, and accessible from the same web page.
The same key can be used to access Chrome PLUGIN: bit.do/dslrentalsplugin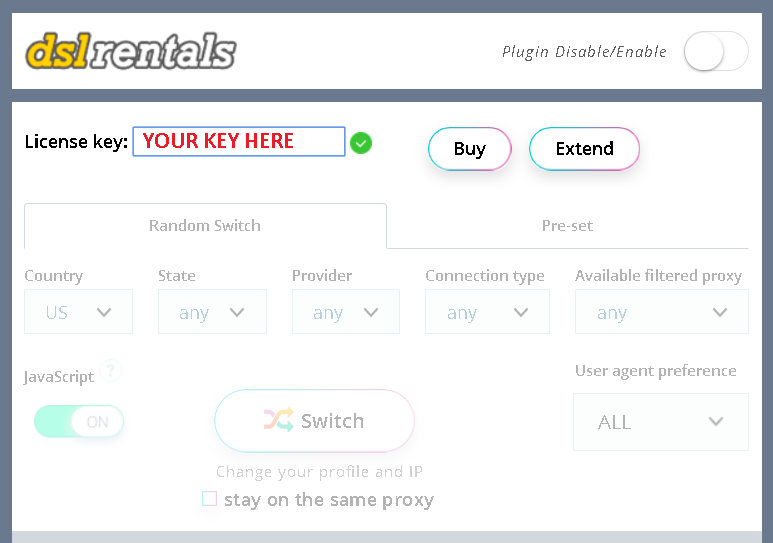 We encourage you to install it on Chromium browser. Link: download-chromium.appspot.com. Regular Chrome browser will not let you to manage multiple Gmail profiles at the same time.
Plugin is a great tool for manual work. You will be able get new user-agent profiles and maintain them all in one place. You can even load up to 10 profiles, name them, and build cookies for each individually. This way you can successfully manage multiple social network profiles without having any trouble.
What you get when buying a key:
All locations are accessible to you at the same time. Just find available proxy, click a button, and you are all set.
*Time limit between switches is 4 minutes.
**More locations available for orders over 20 proxies per location.
 All proxy types available: DSL and Mobile.
Filter proxies by Country, State, Provider, and Connection type. Or don't filter them at all and always get a random IP. It is all up to you now.
"Stay on the same proxy" checkbox will let you stay with the line you like the most forever.
*If your proxy goes offline for technical reasons, we encourage you to check this box off and continue working with other available proxies.
Automate everything with provided API and other tools available in the Panel.
 Browser Plugin available for Chrome and Chromium (Preferred). No need to set up proxy connection, it is automatically done from our new Extension.
Thousands of new identities available at your disposal. Use Plugin to gain access to our database of online fingerprints. Change your identity along with your IP address to always stay private.
Build cookies and grow profiles to tailor the way websites approach you. You can maintain up to 10 profiles in the Plugin at the same time, which can be used to access various social network accounts and many other things.
Automated billing system provides you with the opportunity to extend your current or buy new key anytime convenient for you without having to talk to our support.
*We never bill you automatically; it is always manual payment that you must initiate.