Proxy Panel with One Key Access
As an industry leader, DSLRentals takes a new approach to the proxy market. Now you can purchase one single key which opens up all our locations and features!
Access to proxy servers in all locations
DSL, Cable and Mobile lines are included
Unlimited IP changes and proxies' switches
Option to reserve a specific proxy server
Our Proxy Panel provides you with all necessary tools and information for work automation: API commands, automatic IP change triggered by timer, and all relevant information available in JSON format. You may purchase more keys after you log into the panel, this way all the purchased keys will be associated, visible, and accessible from the same web page.
To make Proxy Panel work for your business, you just need to order license key from our Store and input it here: panel.dslrentals.com.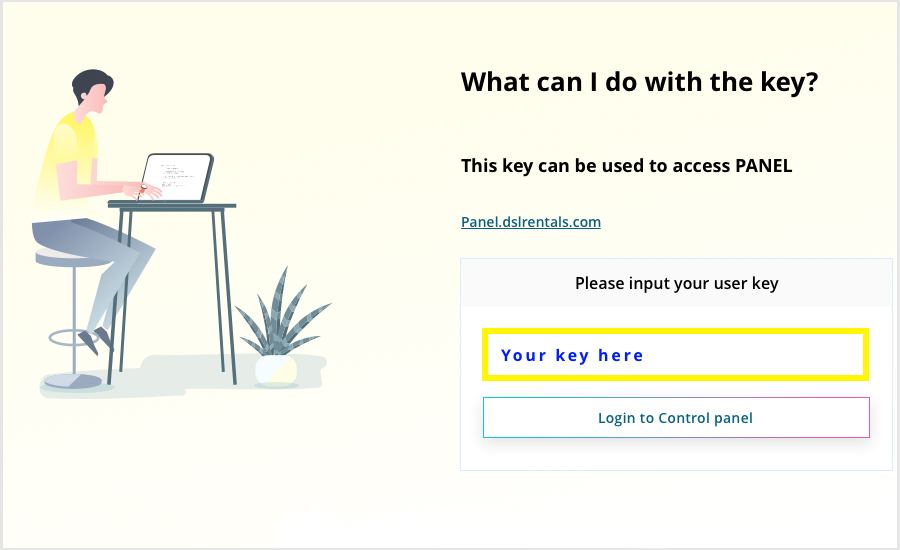 Why are we different?
High Performance PCs
We give you remote access to dedicated High Speed servers
Secure and Private
Secured connection to our network. Fully anonymous proxies
Cable Internet speeds
We offer connection speeds 10x faster than the average competitor
Unlimited Bandwidth
Forget about limited bandwidth. Request as many as you need
Unlimited IPs
You can change your IP as many times as you need
IP Changer Software
Easy to use one-click IP changer software with API access
99% Up-time
We guarantee 99% up-time of our servers. Unused time is credited back
Free 24×7/365 Support
You can reach our team at any time, day or night
24 Hour Money-back Guarantee
If you're not completely satisfied, simply cancel within 24 hours
Proxy Panel Functionality
What you get with Proxy Panel One-Key access:
All locations are accessible to you at the same time. Just find available proxy, click a button, and you are all set.
*Time limit between switches is 4 minutes.
All proxy types available: DSL, Cable and Mobile.
Filter proxies by Country, State, Provider, and Connection type. Or don't filter them at all and always get a random IP. It is all up to you now.
"Stay on the same proxy" checkbox will let you stay with the line you like the most forever.
*If your proxy goes offline for technical reasons, we encourage you to check this box off and continue working with other available proxies.
Automate everything with provided API and other tools available in the Panel.
why customers us!
I was looking for a set of proxy servers, combined into one place with an affordable price for unlimited usage. I found DSLRentals through one of marketplaces available out there. Other people recommended this company for proxy services. I gave them a try and was not disappointed! Best prices and services!
- Lucas V. -
Amsterdam, Netherlands
Great tool in your marketing box for automation. Easy to set up, easy to use. Filters help you switch between specific locations and proxies. Variety of IPs is just excellent.
- PPC Platform by Vision, LLC -
Denver, Colorado, USA
I was looking for a proxy service with API to connect to our custom software platform. Proxy Panel by DSLRentals has easy to set up, functional and stable API support. Exactly what we needed. Price is great. No charge per IP usage. Subscription is affordable compared to the amount of proxies/IP we are getting.
- Muhammad H. -
Dhaka, Bangladesh
Unbeatable price by any other competitor. We grew up from 10 to 100 licenses with a special discount program from DSLRentals. Everything is working smoothly! Keep up.
- Victor S. -
Sydney, Australia
Thank you guys for amazing product! Nothing similar on the market. We prefer to pay monthly fee instead of paying for each proxy. This saves us a lot of money!
- VR TechTouch, LLC -
New York, United States
How Proxy Panel works
How to access DSLRentals Proxy Panel with One-Key?
Step1: Purchase license key for Proxy Panel in Our Store.
Step 2: You will get license key to your email along with the instructions.
Step 3: Access our Proxy Panel and input your license key. You are ready to go!
Final Step: When you want to change IP on current proxy or change proxy location, just press "ChangeIP" button in the Panel. No need to change any settings of your browser again!
Every time you click on "ChangeIP" button – Proxy Panel will connect you to a new proxy/IP. You can also choose to keep current proxy location if you need to stay on same proxy and change its IP address.
Note: You may order a separate key for all your co-workers and all your desktops. No limits! Ask us for bulk order discounts.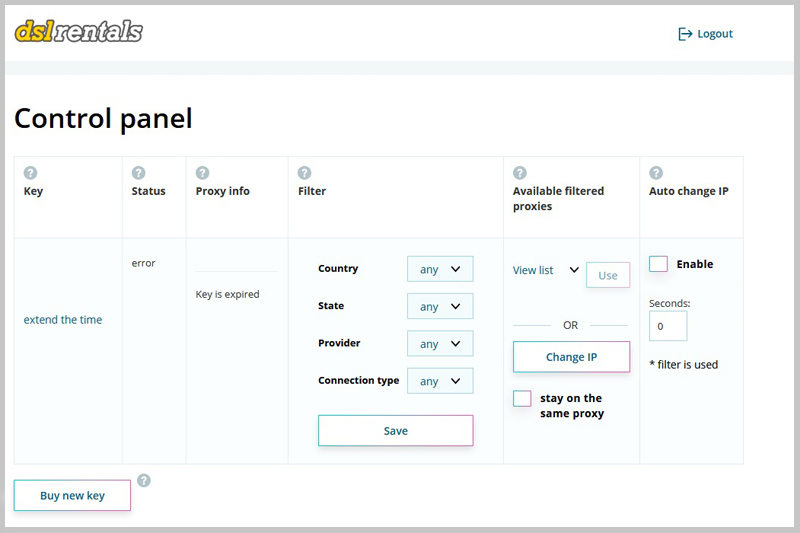 Any API support?
Automate everything with provided API and other tools available in the Panel.
You can find all available API commands right in our Proxy Panel after you purchase key and log in.
Public API
List of available proxies: https://panel.dslrentals.com/api/available_proxy
Private API
a) Current IP:Port Information
https://panel.dslrentals.com/api/dsl_panel_short_ipport?key=YOUR_KEY_HERE
b) Information about your current IP address, key and Panel filter settings
https://panel.dslrentals.com/api/dsl_panel_proxyinfo_per_key?key=YOUR_KEY_HERE
c) IP change command with Panel filter settings applied
https://panel.dslrentals.com/api/dsl_panel_changeip?key=YOUR_KEY_HERE
Customers support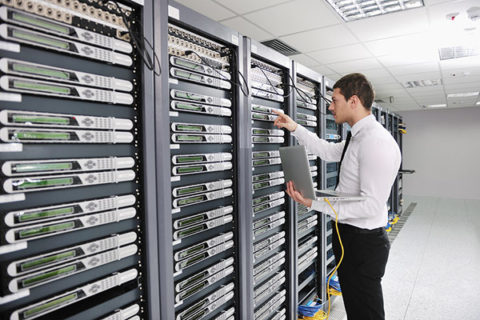 The personal touch: Despite the high-tech nature of online marketing, most customers of remote and proxy servers prefer to have a certain level of interaction and personal contact before they decide to buy.
We do a most of our pre-sales by email and online chat to ensure personal contact, with a less automated processes. Technology is great, but people ultimately make the difference in most customers' buying decisions.
Customers service: When you're looking for best dedicated and proxy servers, the customer service support is a big point. DSL Rentals has been mentioned on several online forums as offering reliable customer support.
We provide technical support to our customers via convenient help desk ticket system and online chat services to better and faster assist in answering questions and resolving any kind of difficulties they might experience.