User Agent Swicher
This new service is a Google Chrome plugin which provide you with a perfect solution to frequently change IP and fingerprints for your business needs, so you will never be banned for mistake by any online platform you are working on. You can change your IP and profile whenever you wish. We always ensure unique IP as it is supplied from own pool of proxy lines.
All IPs visible in the extension are white and no one else is working with the same address except you. Get your license key now.
With our Google Chrome Plugin you will get:
Access to USA proxy servers
Unlimited profile/proxy changes
Dedicated profile/proxy access
To make User Agent Switcher work for your business, you just need to input a unique key into the plugin after installing it. You never need to be worried about the browser proxy settings using login / password to begin session, like with many other plugins.
Switcher" extension interface.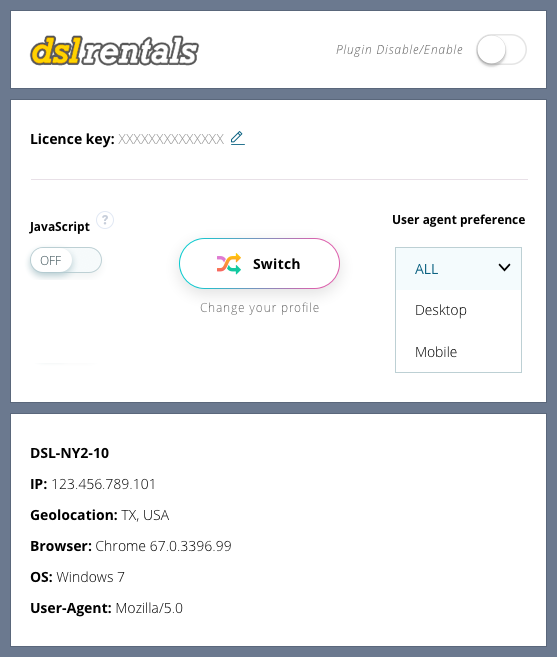 Keep your fingerprints private
Each person has a unique online "Profile" which websites collect to distinguish this individual afterward and to offer this data to marketing agencies or simply block this person.
When you visit online resource, web browser is asked to provide certain information about your system, e.g. system time, language, screen resolution, Operating System, DNS servers (and many more). This information is considered to be an online fingerprint, or "profile".
Checking the user agent is one of the most effective strategies that websites use to identify browser and such. Making changes to the user agent and changing IP address will be tricky enough to make sites believe you are a different person every time you do it.
User agent is a software agent that is acting on behalf of a user. Usually it acts as a client in a network protocol utilized within a client–server communications. It will respond to certain website queries instead of your browser.
By utilizing a browser extension, you can change user agent along with your IP address easily. As a result, your browser will be much more anonymous than before.
We are ready to present a new solution for those concerned about being traceable online. It will intercept many queries and respond with the different information. This is a Chrome extension that enables you to feed websites false data. This extension will allow you to switch between user-agent strings fast and easy.
Our "Switcher" extension is straightforward, fast, and simple to use. It includes a toolbar button which you may utilize to flip between different commonly utilized user agent strings. "Switcher" overrides Chrome's default client operator, deceiving websites into believing you're a different person every time you press "Switch" button.
Switching Profiles
"Switcher" has several control toggles. The main one is a "Switch" button. By pressing it you can easily change your online profile to show websites you are a different person. As websites receive false information, you are keeping your real identity private.
This Chrome Plugin generated tens of thousands of profiles which are automatically exchanged every time you press "Switch" button:
"Switch" button is in the middle of "Switcher" extension.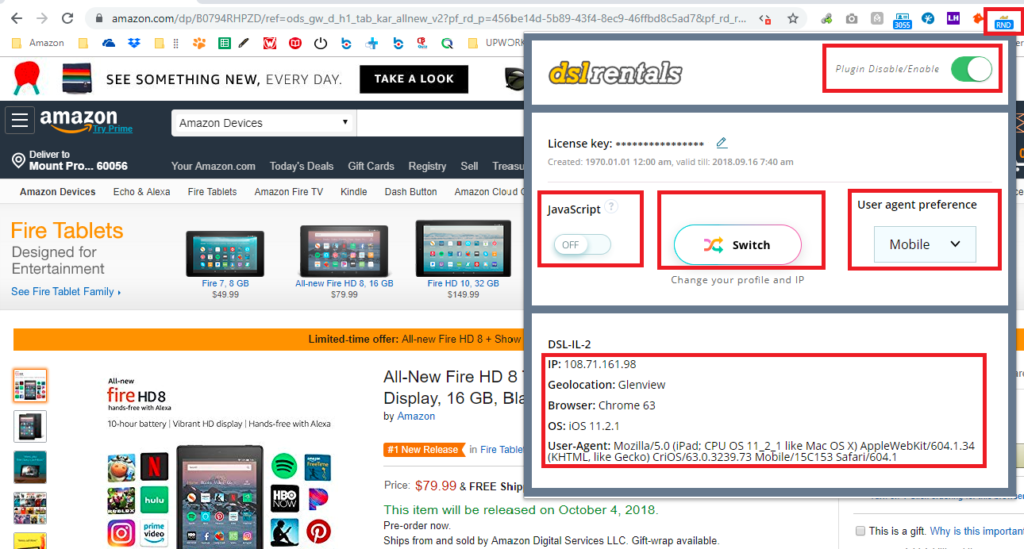 Javascript Enable / Disable
Our Chrome Plugin modifies javascript responses. You have the option to Enable / Disable Javascript in the browser:
"Javascript" Enable / Disable option available.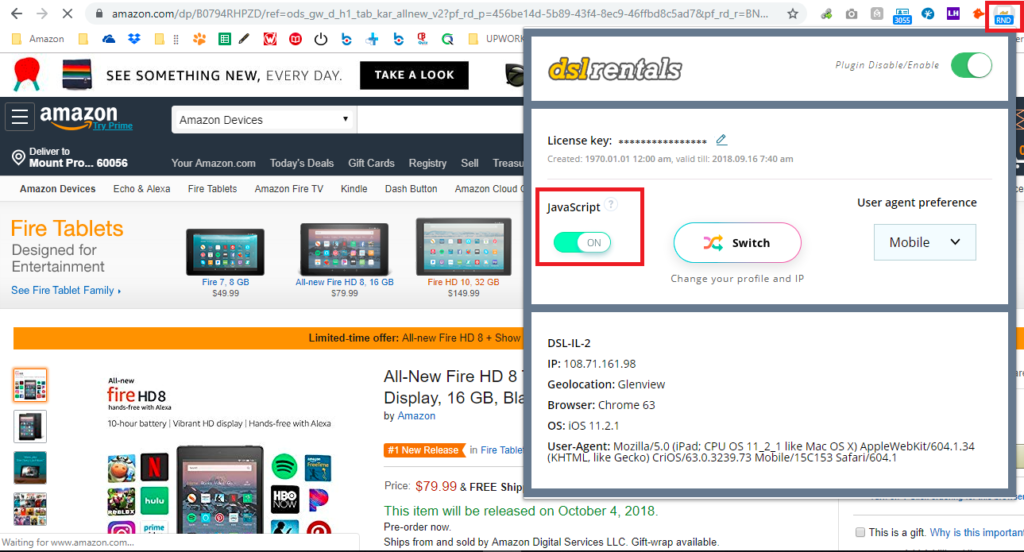 Desktop / Mobile Appearance
You have the option to choose different types of profiles: Mobile / Desktop / All of them:
Amazon.com main page using "Switcher". Desktop View.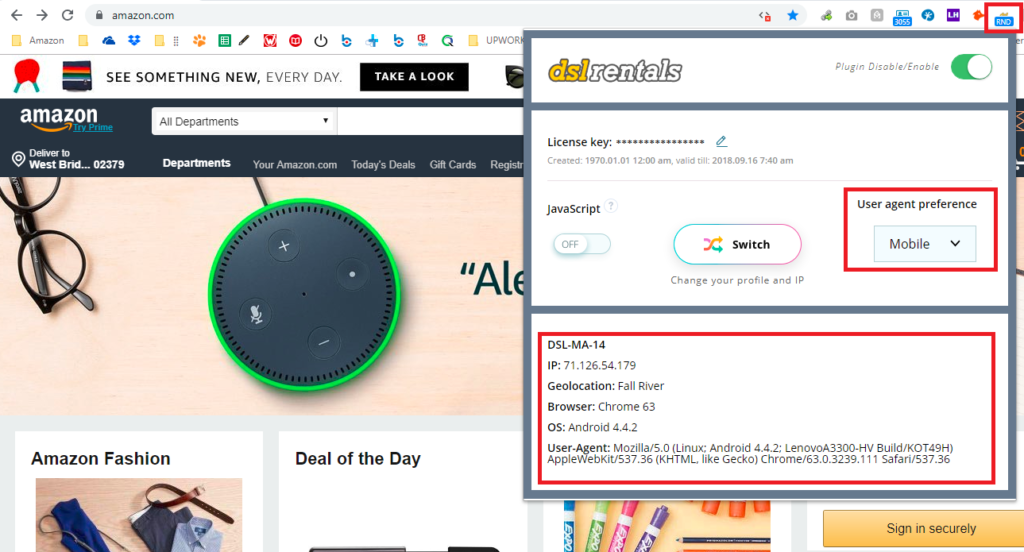 If you prefer websites to think you're browsing from a desktop computer, simply choose "Desktop" User Agent preference:
Amazon.com search for book using "Switcher". Desktop View.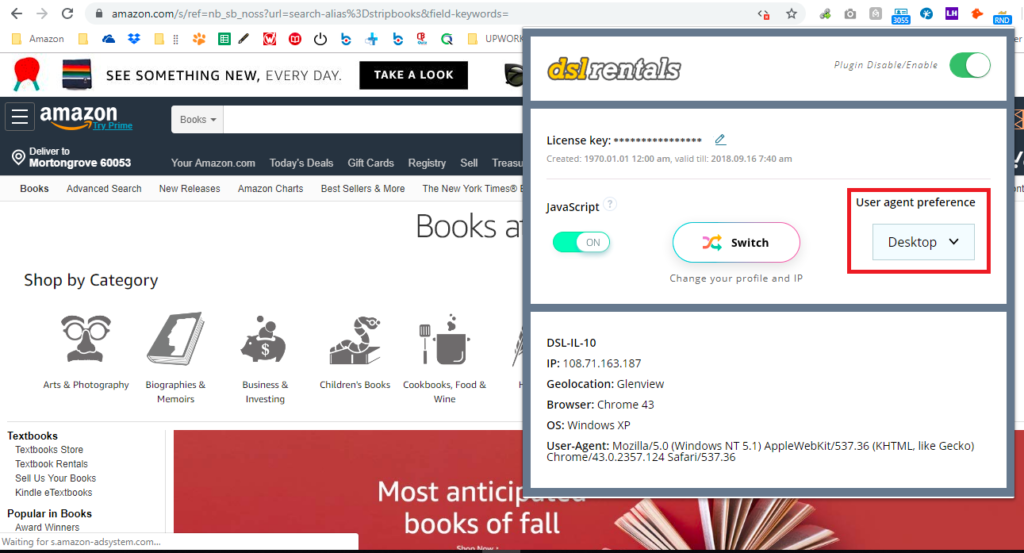 If you change your mind and decide to be a mobile phone user, choose "Mobile" in the dropdown menu:
Amazon.com search for book using "Switcher". Mobile View.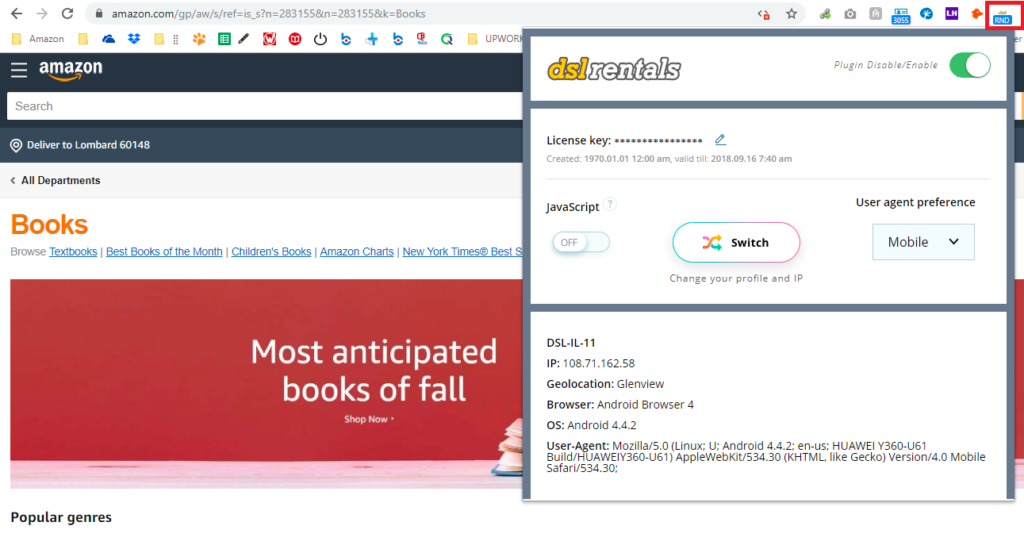 You can purchase license key for our User Agent Switcher here. Trial period is also available. Your license key can also be used to access our Proxy Panel with One Key service.