User-Agent Switcher - Google Chrome Extension
This new service is a Google Chrome plugin which provide you with a perfect solution to frequently change IP and fingerprints for your business needs, so you will never be banned for mistake by any online platform you are working on.
You can change your IP and profile whenever you wish. We always ensure unique IP as it is supplied from own pool of proxy lines. All IPs visible in the extension are white and no one else is working with the same address except you.
With our Google Chrome Plugin you will get:
Access to proxy servers in all locations
Unlimited profile/proxy changes
Dedicated profile/proxy access
To make User Agent Switcher work for your business, you just need to order license key from our Store and input into the plugin after installing it. You never need to be worried about the browser proxy settings using login / password to begin session, like with many other plugins.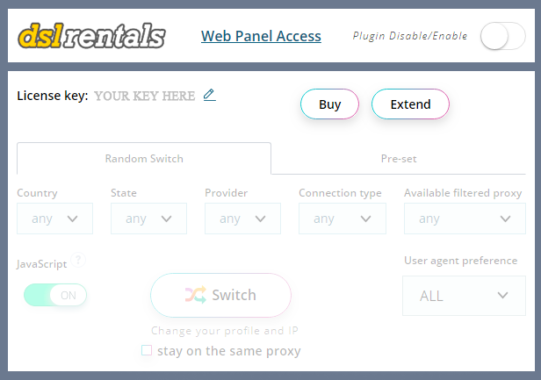 Why are we different?
High Performance PCs
We give you remote access to dedicated High Speed servers
Secure and Private
Secured connection to our network. Fully anonymous proxies
Cable Internet speeds
We offer connection speeds 10x faster than the average competitor
Unlimited Bandwidth
Forget about limited bandwidth. Request as many as you need
Unlimited IPs
Change your IP as frequently as you need.
IP Changer Software
Easy to use one-click IP changer software with API access
99% Up-time
We guarantee 99% up-time of our servers. Unused time is credited back
Free 24×7/365 Support
You can reach our team at any time, day or night
24 Hour Money-back Guarantee
If you're not completely satisfied, simply cancel within 24 hours
Plugin Functionality
What you can do with User-Agent plugin for Google Chrome:
Switching Profiles
"Switcher" has several control toggles. The main one is a "Switch" button. By pressing it you can easily change your online profile to show websites you are a different person. As websites receive false information, you are keeping your real identity private.
This Chrome Plugin generated tens of thousands of profiles which are automatically exchanged every time you press "Switch" button.
Javascript Enable / Disable
Our Chrome Plugin modifies javascript responses. You have the option to Enable / Disable Javascript in the browser.
Desktop / Mobile Appearance
You have the option to choose different types of profiles: Mobile / Desktop / All of them.
why customers us!
Since it's release, DSLRentals Extension plugin was integrated to our marketing tools system. Works 100%. Profiles are literally unlimited!
- SM Marketing Tour, LLC -
Houston, TX, USA
Something really great came up on the market! Free plugins just don't really work well. DSLRentals made it! Price is fair enough for what you get! Recommended!
- Daniel V. -
Our company serves customers from USA and Europe. We use DSL Rentals User-Agent Plugin to maintain all work for our business partners. This way we comply with all required terms and rules.
- Hardik K. -
New Delhi, India
Great service. Easy to use. Many locations to choose from. Yet affordable.
- New Trend LLC -
New Trend, LLC
This plugin for Google Chrome rocks! We work with SEO tools and need to have multiple profiles to maintain accounts in good standing. It really works!
- Victoria S. -
San Diego, CA, USA
How User-Agent Switcher works
Keep your fingerprints private
Each person has a unique online "Profile" which websites collect to distinguish this individual afterward and to offer this data to marketing agencies or simply block this person.
When you visit online resource, web browser is asked to provide certain information about your system, e.g. system time, language, screen resolution, Operating System, DNS servers (and many more). This information is considered to be an online fingerprint, or "profile".
User agent is a software agent that is acting on behalf of a user. Usually it acts as a client in a network protocol utilized within a client–server communications. It will respond to certain website queries instead of your browser.
This extension will allow you to switch between user-agent strings fast and easy. As a result, your browser will be much more anonymous than before.
Our "Switcher" extension is straightforward, fast, and simple to use. It includes a toolbar button which you may utilize to flip between different commonly utilized user agent strings. "Switcher" overrides Chrome's default client operator, deceiving websites into believing you're a different person every time you press "Switch" button.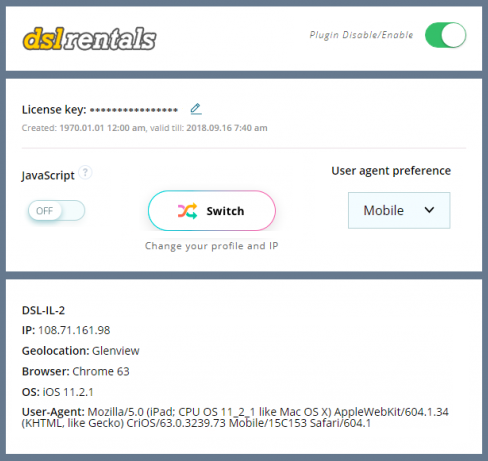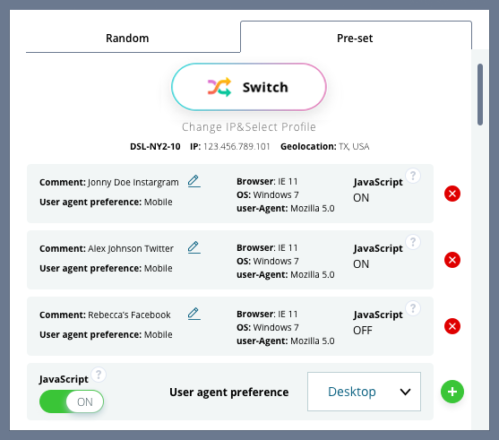 How to set up DSLRentals User-Agent Switcher?
Step1: Purchase license key for User-Agent Switcher in Our Store.
Step 2: You will get license key to your email along with the instructions.
Step 3: You will need to download Google Chrome plugin by following the link provided in your account.
Step 4: Launch our User-Agent extension in Google Chrome and input your license key. You are ready to go!
Final Step: When you want to change IP you just need to press Switch button in the Plugin. No need to change any settings of your browser again!
Every time you click on "Switch" button – Google Chrome Plugin will assign new user-agent profile and IP address to your browser. You can also choose to keep current proxy location if you need to stay on same proxy and change its IP address.
Note: You may order a separate key for all your co-workers and all your desktops. No limits! Ask us for bulk order discounts.
Customers support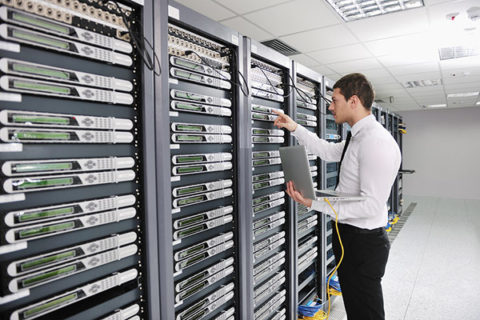 The personal touch: Despite the high-tech nature of online marketing, most customers of remote and proxy servers prefer to have a certain level of interaction and personal contact before they decide to buy.
We do a most of our pre-sales by email and online chat to ensure personal contact, with a less automated processes. Technology is great, but people ultimately make the difference in most customers' buying decisions.
Customers service: When you're looking for best dedicated and proxy servers, the customer service support is a big point. DSL Rentals has been mentioned on several online forums as offering reliable customer support.
We provide technical support to our customers via convenient help desk ticket system and online chat services to better and faster assist in answering questions and resolving any kind of difficulties they might experience.